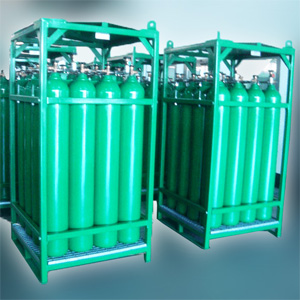 Argon Gas
This industrial gas used for Fabrication, Glass, Metal Process and Cutting Industries.
Characteristics
An inert gas, compressed at high pressure.
Grade
Industrial Grade ≥ 99.997%
High Purity ≥ 99.999%
Ultra-High Purity ≥ 99.9995% to ≥ 99.9999%
Delivery and Supply
Compressed in-cylinder capacities 1.5m3 to 10.0m3
Gaseous Argon
Gaseous argon is tasteless, colorless, odorless, noncorrosive, and nonflammable. Argon belongs to the family of rare inert gases. It is the most plentiful of the rare gases making up approximately 1% of the earth's atmosphere. It is monatomic and extremely inert, forming no known chemical compounds. Since argon is inert, special materials of construction are not normally required. Vessels and piping must be selected and designed to withstand the pressure and temperatures involved and comply with applicable codes and regulations.
Manufacture
Argon is produced by an air separation unit (ASU) through the liquefaction of atmospheric air and separation of the argon by continuous cryogenic distillation. The argon is then removed as a cryogenic liquid.
Use
Argon serves as a shielding gas to protect metals from oxidation during welding. Inert gas welding is the preferred method of joining several ferrous and nonferrous alloys. The metals and semiconductor manufacturing industries employ argon as a purge or inerting gas in furnaces or other processing steps. In some instances, liquid argon is introduced and then vaporized over the surface of volatile or reactive molten metals to significantly reduce oxidation and/or volatility using an inert "blanket" of gas. High-volume flow rates of argon are introduced via specialized lances or "tuyeres" in a variety of melting and refining processes. The argon typically acts as a "shroud" gas to provide protection to the tuyere. It also promotes the removal of impurities and/or dissolved gases in several refining processes. Argon is also widely used in the lighting industry for filling bulbs and in combination with other rare gases for special color effects.
Our Offer
We offer compressed argon gas and liquid argon in a variety of purities and concentrations.
Many industries can benefit from argon's unique inerting properties to improve quality, optimize performance, and reduce costs.
Our experienced applications teams across the globe can use their industry and application knowledge to provide you with a compressed or liquid argon supply and technology solution to meet your unique needs.
No matter what your argon application, Air Products can help you improve your process and minimize your cost. We have years of experience in argon supply and technology. Our engineers will work with you to develop solutions that optimize performance and reliability while providing you with the technical "know-how" to give you a competitive edge. Get the experts of Air Products on your side.
Applications
Used in electric bulbs, welding and cutting purposes; it has several usages which are given in below…
Blanketing/inerting • Degassing • Electronic package sealing • Glass filling • Glass-tin bath atmosphere  • Hot isostatic processing • Metal refining • Metals heat-treating • Plasma arc cutting  • Plasma cleaning  • Powder atomization    • Pressure testing    • Purging    • Quenching    • Silicon ingot inerting    • Stirring     • Thermal spray • Welding
Argon Applications by Industry
Argon can be used as an inerting atmosphere in place of nitrogen for specialized processes.
Select your application below for a list of available offerings designed to help you improve your operations
Farming Equipment
Thermal Spraying
Argon is a key process gas for many thermal spray applications, particularly plasma spraying. Since argon is completely inert and easily ionized, it can be used as the primary plasma gas or as a secondary gas with nitrogen to increase its energy. It can also be used as a powder carrier gas for a completely inert environment. Our application engineers can help you select a supply system to meet your pressure and volume requirements.
Construction
Electronics, Packaging, Assembly and Test
Passive Components
The firing of Ceramic Components
Printed Circuit Board Assembly and Test
Semiconductor/IC Test, Assembly & Packaging
Energy

Oil/Gas Production
Oil and Gas-Offshore

Food / Beverage
Glass / Minerals
Atmosphere Control – Purging, Blanketing, Shielding
Non-Metallic Mineral Product Manufacturing
Primary Glass
Processed Glass Products
Medical
Metals

Iron/Steel Production

Foundry
Integrated Mill
Mini-Mill
Specialty/Stainless

Metals Processing
Non-ferrous Production
Transportation
Material Safety Data Sheet
Refer to IOL Material Safety Data Sheet for further information on product handling, storage, and usage.